Swimwear is exposed to unique conditions, including water, sun, and pool chemicals, so the choice of fabric is crucial for comfort and durability. Several types of fabrics are commonly used for swimwear, each with its own set of characteristics and advantages. Here are some of the most common fabric types used for swimwear:
Nylon: Nylon is one of the most popular fabrics for swimwear due to its excellent strength, durability, and stretch. It dries relatively quickly and provides a comfortable fit. It's often blended with other fibers like spandex to enhance stretch.
Polyester: Polyester is another durable and commonly used fabric for swimwear. It is known for its colorfastness and resistance to chlorine, making it an ideal choice for pool swimming. It may not be as stretchy as nylon, so it's often blended with spandex.
Spandex (Elastane or Lycra): Spandex is not typically used as the primary fabric for swimwear but is commonly blended with other fabrics like nylon or polyester to provide the necessary stretch and elasticity for a comfortable fit.
Lycra Xtra Life: This is a variant of spandex designed to resist degradation from exposure to chlorine and UV rays, making it an excellent choice for long-lasting swimwear.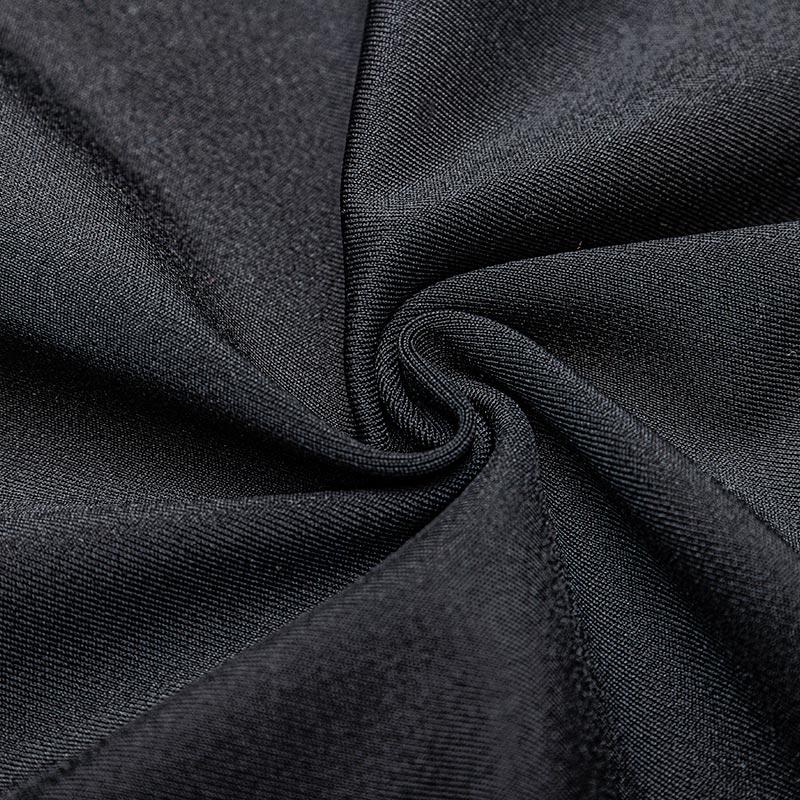 Polyamide: Polyamide is a synthetic fiber often used for swimwear. It combines durability, elasticity, and quick-drying properties. Like nylon, it's frequently blended with spandex.
Microfiber: Microfiber is a very fine synthetic fiber known for its softness and quick-drying characteristics. It's often used for swimwear with a focus on comfort.
Tactel: Tactel is a type of polyamide known for its soft, lightweight, and breathable qualities. It provides a smooth and silky feel against the skin, making it suitable for swimwear that prioritizes comfort.
Neoprene: Neoprene is a thicker, rubber-like material often used for wetsuits and certain styles of swimwear. It offers insulation and buoyancy, making it ideal for cold-water activities.
Jersey Knit: Jersey knit is a versatile knit fabric often used for casual swimwear styles. It provides a comfortable, stretchy fit and is suitable for swim cover-ups and rash guards.
Mesh: Mesh fabrics are lightweight and breathable. They are often used for swim cover-ups, swim shorts, or as a layer in swimwear designs to add texture and ventilation.
When selecting swimwear, it's essential to consider the specific features you need, such as quick-drying properties, chlorine resistance, UV protection, and stretch. The choice of fabric can greatly impact the comfort and longevity of your swimwear, so it's advisable to understand the characteristics of each type and choose the one that best suits your needs and preferences.